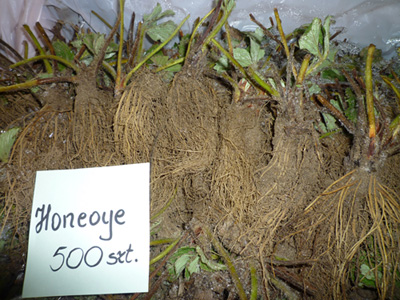 Origin: oan American breed ('Vibrant' x 'Holiday') which demonstrates high adaptive abilities and that's why it is cultivated in many European countries, especially in Poland.

Plant: a strongly growing plant with not very dense bushes what facilitates harvest. It shows high sustainability to leaves diseases and to light frosts, but at the same time they are sensible to root system diseases and not very sustainable to powdery mildew.

Fruits: they are rather big and also of medium size with low inclination to grinding and they are affected by gray mold in the least possible degree. The fruits have a cone-shaped form with a cutaway top and a narrowing near the scyphulus which forms a collar. The peel is of saturated red color and the most intensively ripe fruits have dark red peel which is homogeneous on the whole surface and is strongly shining. The pulp is of light red color, it is flavoured and of average taste. The breed is fruitful; it demonstrates the ability of concentrated fruit ripening. It perfectly suits for speeded up growing in tunnels and in the fields under low protection. The fruits are very hard; they stand well a short-term storage and long-distance transportation. The breed is irreplaceable as the earliest dessert breed and it is willingly bought and processed by the reclamation industry.